Cromarty Firth and the Forth chosen for Scotland's green freeports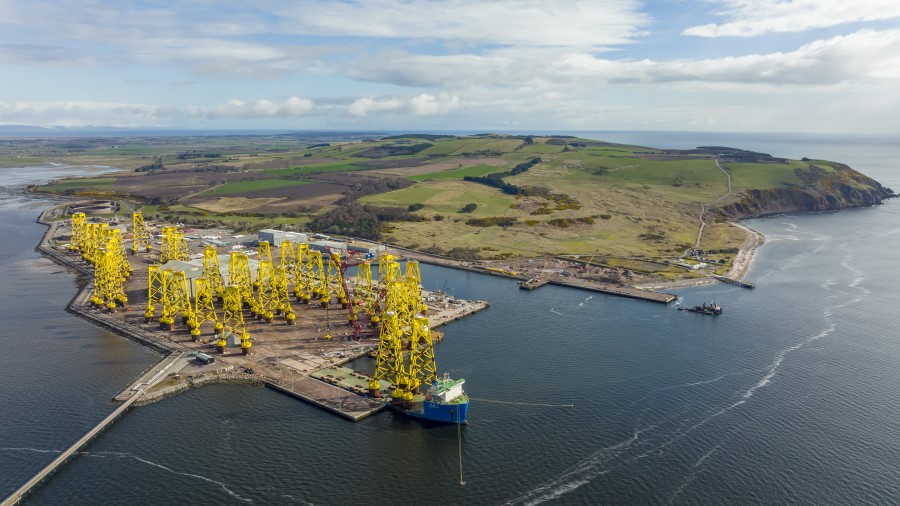 Cromarty Firth and the Forth have been jointly selected by the Scottish and UK governments to become Scotland's first "green freeports".
The winning bids by Opportunity Cromarty Firth (OCF) and Forth Green Freeport (FGF) will be supported by up to £52 million in start-up funding and will benefit from tax reliefs and other incentives through a combination of devolved and reserved powers.
Applicants to become a green freeport in Scotland were required to demonstrate how they would contribute towards a just transition to net zero emissions by 2045 and create new, green jobs. They were also required to set out how they would support high-quality employment opportunities with fair work conditions at their core.
---
---
Deputy First Minister John Swinney said today's announcement represented a "milestone achievement in the process to deliver green freeports for Scotland".
"Scotland has a rich history of innovation, trade and manufacturing and as we look to seize the many opportunities achieving net zero offers, the creation of these internationally competitive clusters of excellence will help us to create new green jobs, deliver a just transition and support our economic transformation," he added.
Levelling Up Secretary Michael Gove said: "Inverness and Cromarty Firth and the Firth of Forth are fantastic areas for these new green freeports to set up, ensuring the benefits are felt right across Scotland. This will help to create exciting new jobs, boost business and encourage investment in the local areas and beyond."
The private-public bid consortium behind the Forth Green Freeport bid said its proposal will create up to 50,000 new green jobs, unlock £6 billion of private and public investment and generate a £4bn boost in GVA to Scotland's economy.
The consortium includes Forth Ports, Babcock, INEOS, Edinburgh Airport, Scarborough Muir Group, Falkirk Council, Fife Council and the City of Edinburgh Council.
Charles Hammond OBE, chief executive of Forth Ports and lead FGF bid partner with sites at Leith, Grangemouth, Rosyth and Burntisland, said: "Today's shortlisting is great news for Scotland, for new green jobs and for the country's drive to net zero.
"Together with our consortium partners, our bid will re-industrialise the nation and create large scale economic development. Our green freeport will accelerate investment and generate 50,000 new green jobs by acting as a catalyst for new technologies and renewable energy manufacturing.
"This has the potential to unlock £6 billion of private and public investment for Scotland and create new training facilities, factories, logistics parks, rail, freight and fuel terminals and to enhance our creative industries.
"The benefits of trade will be spread widely into the communities that need it the most, through the establishment of a green growth investment corridor creating tens of thousands of jobs in low carbon logistics, renewable energy, green manufacturing and alternative fuels.
"These new jobs will not just be in Grangemouth, Leith and Rosyth, but in Glasgow and Edinburgh; the Lothians, Stirling and Falkirk; Dunfermline and Burntisland; and across the UK."
The OCF consortium, launched in 2020, includes the ports of Cromarty Firth, Nigg and Inverness and also the Highlands' largest air terminal and Inverness Airport Business Park.
Stuart Black, chief executive of Highlands and Islands Enterprise (HIE), congratulated OCF on the successful bid and said it was "fantastic news" for the region.
He said: "The Highlands and Islands will play a critical role in meeting the challenging net zero targets at both Scotland and UK levels. Green freeport status for the Cromarty Firth will be a huge asset, driving collaboration between industry, academia and the public sector to stimulate transformational regeneration through economic activity, investment, innovation and skills development.
"It will attract large-scale manufacturing and create thousands of green jobs that complement the skills of the local workforce and accelerate Scotland's and the UK's progress to achieving net zero targets"
Tracy Black, director of CBI Scotland, said: "Congratulations to the Firth of Forth and the Inverness and Cromarty Firth for becoming Scotland's first green freeport sites.
"With this significant first step now taken, businesses must work closely with government at all levels to ensure that the two areas – and Scotland as a whole – benefit from the new economic opportunities as quickly as possible.
"With Scotland's economy continuing to experience challenging headwinds, this announcement shows the value of having the UK and Scottish governments pull in the same direction to promote growth and recovery."