Glencraft appoints two non-executive directors to boost board in expansion strategy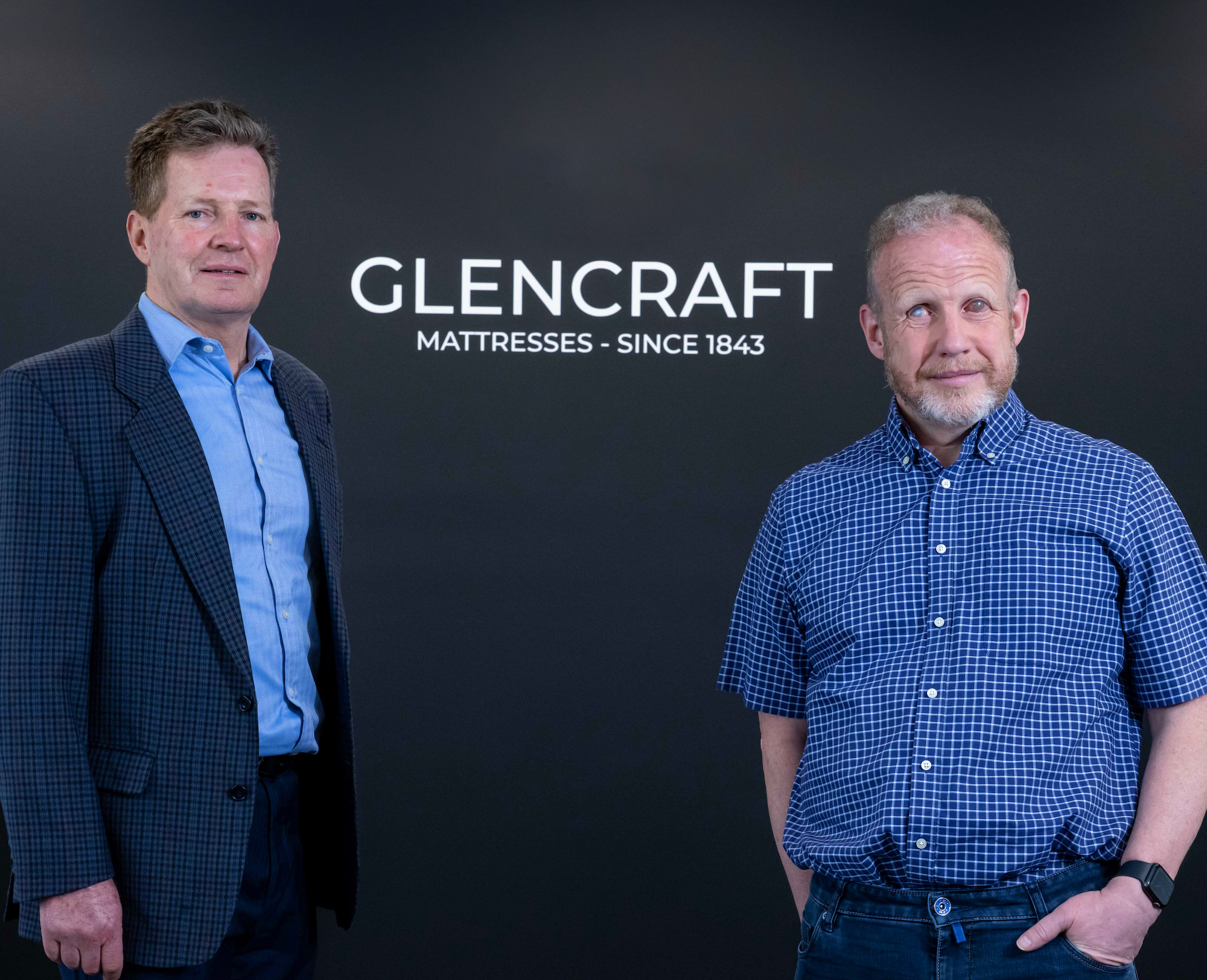 Aberdeen-based social enterprise Glencraft has expanded its board to six members, appointing Neil Skene and Ken Robertson as non-executive directors.
The move follows the earlier appointments of Laura Bruce and Allan Clow in late 2022, as part of Glencraft's broader development strategy.
Glencraft, which has a long history of providing employment opportunities for disadvantaged individuals, manufactures luxury mattresses and other soft furnishing products at its Mastrick facility.
---
---
Inverurie-based Mr Skene is an experienced advisor, entertainer and public speaker. He is one of Scotland's few blind comedians regularly performing at Aberdeen's Breakneck Comedy and other venues across Scotland.
Mr Skene's appointment marks his return to Glencraft, having previously worked at the social enterprise for almost 13 years as an upholsterer. He also has over 20 years' experience as a fundraising co-ordinator for North East Sensory Services.

Aberdeen-based Mr Robertson is a chartered engineer and member of the Institution of Chemical Engineering. He has more than 40 years' experience in the energy industry with a career that has seen him work in the UK, Asia, Africa, Canada and Europe.
He is also a non-executive director of the Health and Safety Executive (HSE) and advisory board member for Empirisys, a data science/process safety start-up.
Mr Robertson and Mr Skene will join fellow non-executive directors Ms Bruce, Mr Clow — who came on board in September 2022 — Leigh Stott and Jonathan Smith who is also chairman of Glencraft.
Glencraft holds a Royal Warrant from the late Queen Elizabeth II and has won the Queen's Award for Enterprise for Promoting Opportunity (through social mobility) in 2021. The not-for-profit social enterprise has experienced increased demand in international markets and for its industry-compliant mattresses for offshore installations.
Mr Smith said: "We have strengthened our board to six non-executive directors, with a diverse range of skills and experience. Ken and Neil are an excellent fit to the Glencraft board and I am sure their first-hand professional and personal life experiences will be of huge benefit to everyone at Glencraft."
Mr Skene added: "Glencraft gave me my first taste of working life — everything I have achieved in my personal and professional life can be directly attributed to the foundations I built during my time spent at Glencraft.
"I am delighted to be returning as a non-executive director of the board and it is my mission to ensure Glencraft continues to provide dignity through work and to ensure others have the same life-enhancing experience that I had."
Mr Robertson said: "I'm really looking forward to getting started with Glencraft and adding value to its mission of delivering dignity through work. It is an extremely successful enterprise and I hope that, with the expanded board, we can build on this success."
The charity supports 26 jobs and more than 80% of its staff are visually impaired or have some other form of disadvantage in relation to health or socio-economic challenges. One member of staff provides key manufacturing skills despite being blind. He has been with Glencraft for 40 years. Another member of staff, Nataliia Zaplitna, is a Ukrainian refugee who joined the organisation in 2022 after fleeing the war in Kharkiv.
Glencraft was granted a Royal Warrant by the late Queen Elizabeth II and has supplied four generations of the Royal family. The social enterprise has also won the Queen's Award for Enterprise for Promoting Opportunity (through social mobility) in 2021, recognising its commitment to supporting people from under-represented groups.
The not-for-profit social enterprise's deluxe handmade luxury mattresses, some of which have 3,000 pocket springs, have been showcased in Vogue magazine. They also incorporate UK-sourced natural materials such as horsehair, mohair, cashmere, wool and alpaca wool.
Glencraft manufactures upholstery in-house, including divans, ottomans, headboards, blanket boxes, cushions and other soft furnishings. The charity saw a rise in trade at its showroom, just off Lang Stracht, following the closure of the John Lewis store in Aberdeen.
Glencraft also has two international stores operating under brand licensing agreements. They are in South Korea and Hong Kong.