Greenshoots: Elgin-based BFL set for expansion after securing patent
Ava Innes, the brand launched by Elgin-based Bespoke Fabrics Ltd (BFL), is set to expand after securing a patent for its sustainable bedding.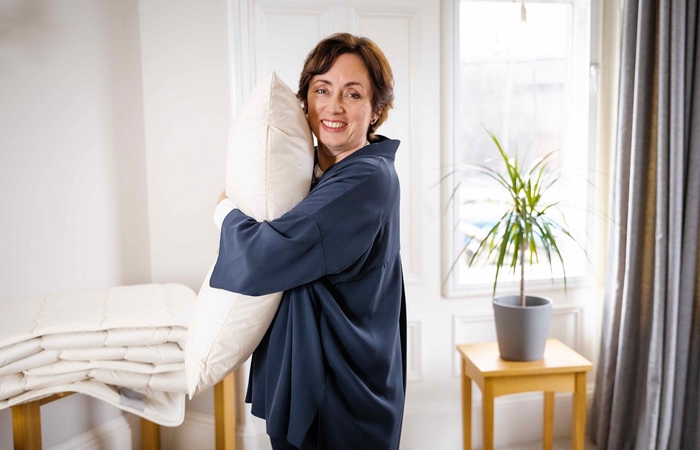 BFL secured £100,000 investment from Highlands and Islands Enterprise (HIE) in 2019. Its Ava Innes range of luxury duvet and pillow products are UK-made using cashmere guard hair and Scottish wool.
Only 30% of the fibre brushed annually from the cashmere goat is used in traditional knitting and weaving. Cashmere guard hair makes up the remaining fibre. At the end of their lifecycle, the products can be returned to the ground instead of going to landfill, which further enhances their environmental credentials.
Joan Johnston, BFL founder and managing director, said: "With a passion for natural local made fabrics, I set out to create a purpose-driven business utilising natural resources, that gives back to people and to the planet. Our customers tell us how they are sleeping better and reflect on the temperature-regulating nature of the duvets and pillows. In addition, we complement our own range by actively sourcing locally made premium products with a focus on relaxation and sleep, whilst supporting other local makers.
"This product is natural, sustainable and is perfect for bedding. As a small business securing the patent for the innovative fabric development was important for our business to grow and I am delighted that has now been achieved.
"We have plans to expand and build on our online presence and engage with more customers across the UK and internationally. I am proud of what has been achieved to date and am excited about future plans for expansion."
Scott McKnockiter, business development account manager with HIE in Moray, added: "We have worked with BFL since the outset and delighted to see the firm secure the patent and plan further growth. The business forms part of Moray's growing creative industries sector. As it develops, it will create the potential to employ more local people, which will benefit the local economy and contribute wider to efforts to attract and retain local talent.
"The type of innovation shown by BFL is increasingly important as we work towards an economy based on net-zero emissions. We look forward to continuing to work with the company as they implement their growth plans."