Keith Tully: What Covid-19 pressures are Scottish businesses wrestling with?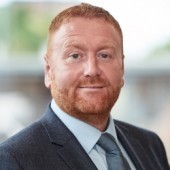 Keith Tully, partner at Real Business Rescue, touches upon the ticking time bomb Scottish businesses are racing up against in the face of the Covid-19 pandemic, which takes the form of the skills and labour shortage, and ambitious technology standards embraced by thriving competitors.
The coronavirus pandemic thrust unprecedented challenges upon businesses which they were forced to either adapt to or risk losing the fight for survival. A combination of Brexit and Covid-19 resulted in a double blow to the UK economy, which pushed voluntary company insolvencies to a 10-year-high. The shift in consumer spending also blighted businesses as people hung onto their purses in response to economic uncertainty.
How the pandemic doubled down on Scottish businesses
---
---
In the financial year 2021-22, there were 854 corporate insolvencies in Scotland, compared to 442 corporate insolvencies in 2020–2021, according to Scotland's Insolvency Service, Accountant in Bankruptcy (AIB).
This was fuelled by a 160% increase in the number of Creditors' Voluntary Liquidations (CVLs), which amounted to 701 liquidations, compared to 270 which took place the previous financial year.
Commenting on the Scottish insolvency statistics, Richard Bathgate, chair of insolvency and restructuring trade body R3 in Scotland, said: "The timing of this increase in corporate insolvencies coincides with many businesses needing to commence repayments on Bounce Back Loans from May 2021.
"As we emerge from the COVID-19 pandemic, business owners are taking stock of the financial position of their companies and considering whether debt they have taken on to survive the pandemic is sustainable.
"Businesses are being hit from every angle with creditor pressure increasing, inflation causing a rise in costs of raw materials, fuel and wages, whilst at the same time, consumer demand is down because of the increased cost of living.
The rules for British trading are being rewritten as businesses are feeling the squeeze following a surge in the price of materials, labour shortages and supply chain delays. Most of which were already in motion at a smaller degree following the UK's exit from the European Union and are now exacerbated by the pandemic.
Raising the bar for technological standards
For professional service businesses, the standards of technology rocketed at the onset of the pandemic as a more flexible IT infrastructure with vast capabilities was in demand to facilitate working from home. This led to record investment in technology to maintain a level playing field between competitors, while budget cuts were initiated across other arms of the business.
Sunil Potti, vice president and general manager for Google Cloud, told Deloitte Insights: "One of the most interesting aspects of the COVID-19 crisis is that, for many companies, the pandemic was more of an accelerator than an obstacle."
"Whether they were launching digital transformations, new workforce-access models, or updated customer interaction technologies, many proactive companies used the crisis to make things better—to get to a 'safer and better normal."
As investment in technology multiplied during the pandemic, this raised the benchmark for digital standards embraced by businesses across a host of sectors. Analysis from Deloitte separates technology spending into four core areas that include remote work, digital economy, supply chain enhancements and automation.
Remote work: Supporting the transition to flexible working by investing in collaboration and communication platforms
Digital economy: Accelerating spending in areas that support a digital economy, such as contactless payments, online learning, and digital technology to seamlessly enable contact-free transactions
Supply chain enhancements: Readjusting supply chains to increase business resilience when experiencing dips in trade and surges in demand. Businesses experienced record-breaking demand throughout the pandemic, while many were forced to shut shop due to drops in footfall
Automation: Integrating systems to increase automation and phase out unnecessary human involvement to overcome the labour shortage and increase operational efficiency
As businesses fight to retain market share, they must pay heed to the technological advancements made by competitors to bring their services in line with industry standards.
Tackling the labour shortage
Labour shortages in Scotland made their way to the Scottish parliamentary agenda in 2022, including recruitment and retention concerns as Brexit and the Covid-19 pandemic 'contributed to a drop in the stock of EU nationals in the labour market', as concluded by CIPD (The Chartered Institute of Personnel and Development), the professional body for human resources and people development.
As Scottish businesses, along with companies across the UK come to terms with the loss of talent following Brexit's immigration policy and the detrimental effects of coronavirus, new ways to attract talent include:
Improving the financial wellbeing of staff
Upskilling your existing workforce
Building partnerships with schools and universities to increase the uptake of apprenticeships
Promoting destination careers to maintain Scotland's share in core industries, such as oil and gas, fishing, renewable energy, food and drink
Shaping public policy with the help of professional bodies
A combination of labour shortages and supply chain delays can rapidly make a business redundant, which can increase its insolvency risk. If a business with cash flow issues is not supported at the early stages of financial distress by the likes of a licensed insolvency practitioner, its financial health can quickly deteriorate, leading to another fallen business legacy.