Lloyds first quarter profits plummet by 95%
Lloyds Banking Group's pre-tax profits have plummeted by 95% to £74 million, a drop of over £1.6 billion from the same three months of 2019.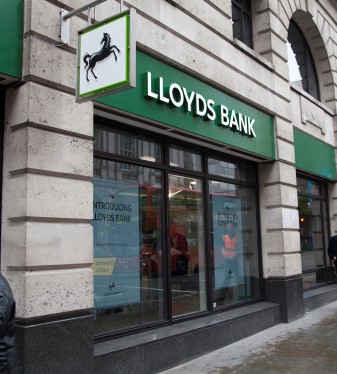 The announcement comes after the bank took a major hit from the worsening economic conditions in the first three months of 2020.
The bank said that a huge £1.4bn impairment charge had substantially affected its profits.
Lloyds Banking Group's interim management statement for the first quarter of this year highlighted that its net income was just below £4bn, a decrease from the £4.4bn reported in the same period last year.
The bank's profit after tax also dropped by 60% to £480m, whilst costs fell marginally to £1.96bn.
The results arrive as the bank attempts to support struggling businesses amid the current global coronavirus crisis. Lloyds said that it had lent around £410m to around 3,000 small businesses as part of the UK Government's Coronavirus Business Interruption Loan Scheme (CBILS).
Lloyds has also issued 83,000 motor finance customers with payment holidays, whilst also giving 175,000 personal loan customers and 219,000 credit card holders similar payment breaks.
More than 400,000 mortgage-holders have also been granted a payment holiday.
Antonio Horta-Osorio, chief executive of Lloyds Banking Group, said: "The coronavirus pandemic presents an unprecedented social and economic challenge which is having a significant impact on people and businesses in the UK and around the world.
"The economic outlook is clearly challenging with the longer-term outcome dependent on the severity and length of the pandemic and the mitigating impact of government and other measures in the UK and across the world.
"Throughout this period of uncertainty, we will continue to work closely with government, regulators and other authorities and use the strength of our balance sheet and business model to ensure that we play our part in supporting our customers and the UK economy.
"I would like to pay tribute to the exemplary dedication being shown by all our colleagues across the group providing vital banking services to those in need, but also in going above and beyond in countless and often unseen ways to support the most vulnerable."
John Moore, senior investment manager at Brewin Dolphin, commented: "Of the major banks, Lloyds is most vulnerable to a significant UK downturn, following moves to simplify its business over the past decade. Barclays' UK results earlier in the week suggested it would be tough for Lloyds, but there is resilience in today's numbers.
"While the bank is in a strong financial position in the immediate term, analysts will keep a close eye on the performance and quality of its loan book amid pressure to lend over the next year and beyond. That scrutiny, combined with an interest rate environment that challenges profitability, explains why banks' share prices have been hit so hard over the past month or so. Until there is greater clarity over the health of the economy, their shares may continue to stay at these levels."
Read all of our articles relating to COVID-19 here.