Four new members appointed to Accounts Commission for Scotland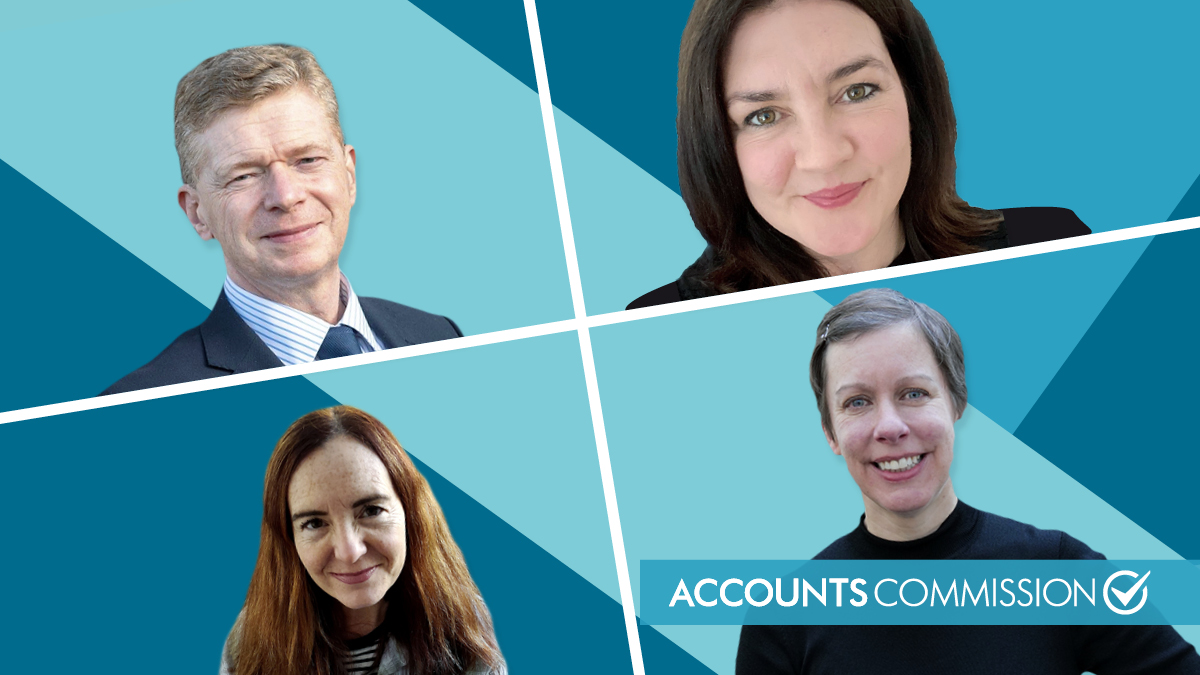 Malcolm Bell, Nichola Brown, Jennifer Henderson and Ruth MacLeod have been appointed as members of the Accounts Commission.
The new members were confirmed by Ben Macpherson MSP, minister for social security and local government.
These four appointments strengthen the commission in several critical areas – communications, engaging with stakeholders, experience of using vital services and an in-depth understanding of local and national government. Their collective knowledge and expertise are significant and complements the skills and experience of existing members.
---
---
The Accounts Commission is independent of government and is responsible for reporting on performance and spending within Scotland's 32 councils, 30 integration joint boards and other local government joint boards.
William Moyes, chair of the Accounts Commission said:
"I am delighted at the appointment of four new Accounts Commission members. We now have a full complement of Commissioners, with a wealth of talent, experience and knowledge of the delivery of vital local public services.
"These appointments have been confirmed at a time of important change for the Commission. As Scotland's councils continue to recover from the impacts of Covid-19 and address the consequences of inflation and the cost of living on their local communities, the Commission is focused on ensuring the audit and scrutiny of local government helps councils deliver and improve services for citizens and our communities."
These appointments are regulated by the Ethical Standards Commissioner and are for four years, running from 1 November 2022 to 31 October 2026.
Malcolm Bell has extensive experience in the public and third sectors and is passionate about partnership working and organisational improvement. He served as convener of Shetland Islands Council from 2012 until he stood down from elected office in 2022. During this time he was a member of the Cosla Convention and served as a director of the Improvement Service, the 'go to' organisation for Local Government improvement in Scotland.
In addition he was president of the Scottish Provosts Association, the forum for Scotland's 32 Civic Heads and served on various other boards including Shetland Citizens Advice. Mr Bell was also a non-executive director and vice-chair of NHS Shetland between 2010 and 2022. He is a former senior police officer who retired from Northern Constabulary in 2010, having taken a particular interest in community planning and partnership working.
He has chaired Shetland's Child and Adult Protection Committees, leading both through a period of significant organisational and legislative change during his tenure, and he has been an honorary sheriff since 2010.
Nichola Brown brings extensive experience in partnership working across statutory and community and voluntary organisations, having worked in public health in Glasgow city for over twenty years. With a strong commitment to social justice and reducing inequalities, she has led and managed the implementation of a complex portfolio of work programmes to improve population health, translating national and city strategies into the local context. This is underpinned by her background in community development.
From a personal perspective, Ms Brown brings experience and understanding of the challenges associated with navigating services and systems as a parent carer of a young man with a severe learning disability.
She is also founder and chairperson, in a voluntary capacity, of PlayPeace, a small charity in North Lanarkshire which provides play sessions and outings to support families of children with additional needs during school holiday periods.
Jennifer Henderson has extensive public sector management and leadership experience and is a Chartered Fellow of the Chartered Management Institute. She is currently the chief executive and keeper of the Registers of Scotland, where she is delivering a substantial programme of digital transformation. Ms Henderson emphasises the importance of effective stakeholder engagement, communication, and transparency in public service delivery — bringing experience from both her current role and from leading the stakeholder engagement for the Building Safety Programme established in response to the tragic fire at Grenfell Tower.
Ms Henderson has a strong commitment to equality, diversity, and inclusion. She received a UK Women in Defence Award for improving gender equality during her time as a director at the Defence Science and Technology Laboratory. Previously, she also served as a non-executive director for Ploughshare Innovations Ltd.
Ruth Macleod is currently head of communications for the Church of Scotland. With more than 20 years' experience working in strategic public relations, predominantly in the public sector, she has led on complex corporate communications issues, managing multi-disciplinary teams across traditional media, digital, web and publishing platforms.
She has held previous roles within the police, the local authority sector, the Scottish Government and the fire and rescue service. A specialist in crisis communications and change management Ms Macleod was responsible for delivering the communications function for the newly-formed national Scottish Fire and Rescue Service bringing together eight regional brigades in a significant public sector reform which required significant leadership across all aspects of communications.
During her time there she delivered the communications response to a number of high-profile incidents including a firefighter fatality, the Clutha Bar helicopter crash and the George Square bin lorry crash. Ms Macleod is a fellow of the Chartered Institute of Public Relations (CIPR).