Scottish labour market statistics reveal decline in Scottish employment rate
The Scottish Labour Market Statistics for Jun-August 2019 released today by the Office for National Statistics (ONS) have reported a 1.4% drop in the Scottish employment rate.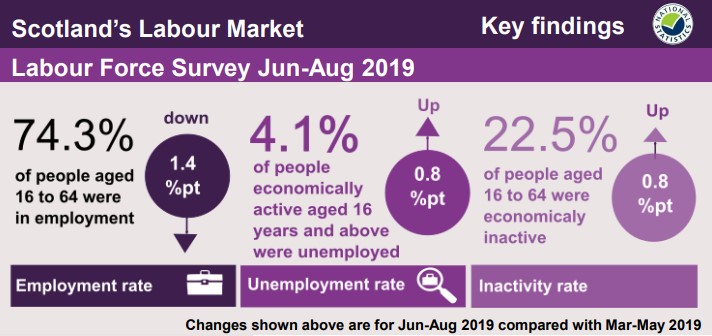 The statistics have indicated that the UK employment rate was 75.9%. This is 0.2 percentage points down on the quarter and 0.3 percentage points up on the year.
The data revealed that 4.1% of people economically active aged 16 years and over were unemployed, this being a 0.8% increase. Meanwhile, 22.5% of people ages 16-64 were economically inactive, an increase of 0.8%.
The statistics also show that the UK unemployment rate was 3.9%. This is 0.1 percentage points up on the quarter and 0.2 percentage points down on the year.
Commenting on the data's findings, Jamie Hepburn, business minister, said: "Brexit is having an increasingly negative impact on Scotland's economy and labour market, and that is demonstrated by these figures.
"There are some things the Scottish Government cannot mitigate. But within the limit of our powers, we are working as hard as possible to prevent damage to Scotland's jobs, businesses and economy being inflicted by a UK Government-led Brexit.
"We will continue working to create the right economic conditions for employment, such as our 'Prepare for Brexit' campaign - helping build economic resilience through grants which support businesses to have response plans in place."
Tracy Black, CBI Scotland director, added: "The latest figures show that employment is down across Scotland, signalling a bump in the road for what has been a robust local labour market. With huge uncertainty impacting the whole economy, this is a timely reminder to focus on the basics: boosting productivity and maintaining Scotland's competitiveness.
"The UK Government and its EU partners also need to strain every sinew to deliver a Brexit deal that can bring much-needed certainty to businesses across the UK."
Howard Archer, chief economic advisor to the EY ITEM Club, said: "The latest jobs data are weaker across the board – indicating that the labour market is now undeniably faltering in the face of overall soft domestic economic activity, a weakening global economy and heightened Brexit and domestic political uncertainties are currently having an increasing dampening effect on the labour market.
"Even allowing for the fact that employment is a lagging indicator, the labour market has been remarkably resilient until now.
"There is evidence and reports that many employers are currently adopting a 'wait and see' approach on employment given the current heightened uncertainties. The latest set of purchasing managers surveys indicated that employment across the services, manufacturing and construction sectors fell at the sharpest rate in September since December 2009.
"Specifically, jobs in manufacturing and construction fell at an increased rate in September, while services employment declined for the first time in five months, albeit marginally."