Udrafter offers helping hand to businesses struggling during coronavirus outbreak
Scottish tech start-up Udrafter is offering a helping hand to businesses and students battling through the coronavirus crisis.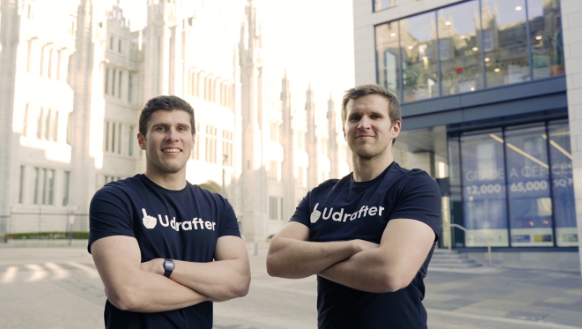 The platform, dubbed the home of micro-internships, allows companies to engage students looking for paid, career-relevant work experience on a range of projects.
Now they are offering businesses affected by the outbreak the chance to post projects for free to help them cope with enforced staff shortages.
And they're even accepting projects for general odd jobs which might appeal to students with unexpected time on their hands.
Luke Morrow, co-founder and commercial director, said: "We're acutely aware of the impact Coronavirus is having across the business and student communities. Huge numbers of staff are either sick or self-isolating as a precaution which is putting a huge strain on business on top of the issues of keeping revenues coming in and the lights on.
"Supermarkets, pharmacies, delivery services, care services and call centres are among the sectors particularly badly affected. But there is a large body of talented, hard-working students who can pick up the slack and help keep these companies moving forward.
"All in-class learning has been cancelled at universities and colleges across Scotland, and it should be borne in mind that many students need part-time jobs such as bar and restaurant work to make ends meet. But many of them are now finding themselves out of work as the hospitality sector is facing a massive crisis.
"We think we can help businesses and students by offering free project posting on our platform and expanding the sort of projects we offer."
Udrafter launched in Aberdeen last year and quickly established itself as it matched students with projects ranging from logo design and videography, to engineering, marketing and architecture in sectors as diverse as restaurants, North Sea oil, satellite communications and gin distilling.
The company opened a new office in Edinburgh earlier this month as they expand into the Central Belt and were offering companies the chance to try them out by posting a project for free.
However, Luke and his brother Daryll, the co-founder and CEO, have decided to extend the free offer in a bid to help businesses.
Daryll Morrow explained: "Right now we believe that Udrafter can play a significant role in helping businesses who might be struggling to ensure all the work they need is being done. Many businesses are now realising they need to set up or improve their digital presence in the current situation and Udrafter students are ideally placed to help with this.
"And many students simply can't afford to attend higher or further education without their bar and restaurant jobs, so they really need help continuing to earn money. That's why we're offering our starter tier free to post a project with us. Aside from a tiny admin charge, businesses will only need to pay the student they engage.
"And because of the unique nature of what we're all going through, we're opening the projects up to all sorts of things we wouldn't normally Even if you just need some flatpack furniture built, your grass cut or some deliveries done, we'll find you a reliable student to take on the work."
Anyone looking for more details or to post a project should log on to udrafter.com.
Read all of our articles relating to COVID-19 here.