Scottish business leaders target USA for first in-person trade missions since pandemic began
Leaders from some of the country's most exciting businesses will travel to the USA this year for the first in-person trade missions from Scotland since the Covid-19 pandemic began.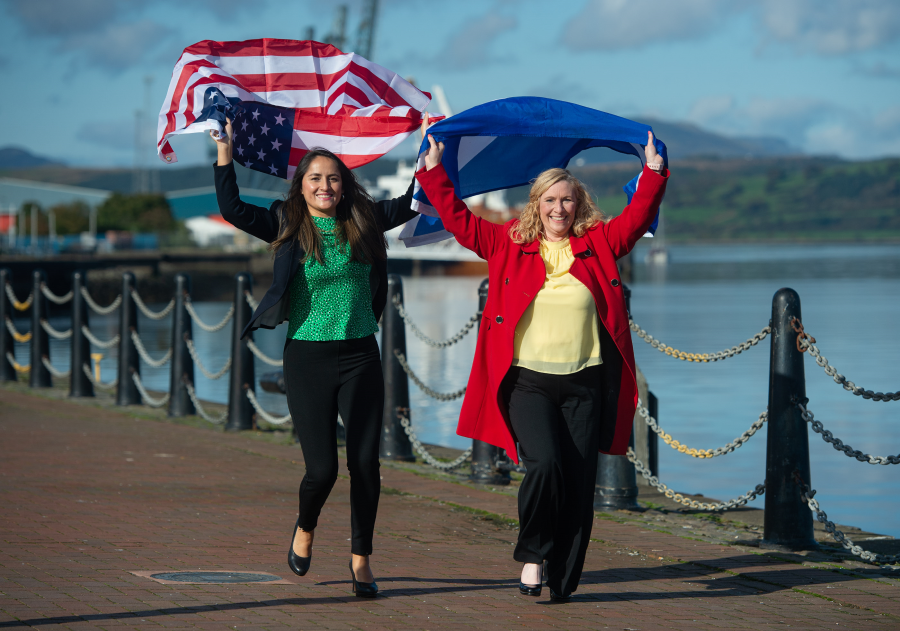 Around 25 SMEs from across the country are expected to join International Trade Partnership (ITP) missions to Miami and New York – led by Inverclyde Chamber of Commerce (ICC) and Forth Valley Chamber of Commerce (FVCC) – aimed at forging new trade links in key markets including tech, sport and leisure, food and drink and the creative industries.
The Scottish Government-backed ITP mission links smaller and emerging Scottish businesses with commercial contacts overseas – particularly in the wake of Brexit – and already this year more than 20 firms have benefited from successful virtual trade missions to Colombia and Italy.
---
---
The virtual Colombia mission, which was the ITP's first trade mission to South America backed by the Scottish Government, involved 16 businesses who took part in more than 60 meetings with key contacts set up by the ITP. Some have already forged working relationships with contacts in Colombia, seen as a gateway to the lucrative Latin American and the Caribbean market (LATAC).
The return of in-person missions is particularly exciting for organisers, with a series of networking events and meetings in the pipeline, as well as involvement in the return of the world-famous Tartan Day in New York in April.
One business already making waves in the USA is video interview platform Willo, a Glasgow founded video interview platform that supports hundreds of clients around the world with recruitment.
Willo has been working with US clients for 15 months, including Doosan, Boy Scouts of America, and Sunbelt Tools. Founder Euan Cameron says it's an exciting and forward-thinking market for any tech business, and stressed there's no substitute for word of mouth when it comes to gaining a foothold.
Euan Cameron said: "The US market is one of the most forward-thinking when it comes to HR and workplace tech. They deeply appreciate that great businesses need great tools.
"Our first US customer actually found us by chance, once we started dealing with them we quickly realised how open they were to working with us on new features and enhancements and word spread after that.
"Scottish businesses can unlock a market of forward-thinking, highly tech-savvy, decision-makers who are willing to pay for top quality products, backed by top customer service. We find that of all the markets we operate in, the US customers are the fairest negotiators as they truly appreciate the value that they are getting."
Financial services are a key focus for the trade missions, and another business already established in Miami is Edinburgh-based financial services firm Abrdn. The firm views the region as an important financial market opening up domestic and overseas opportunities in key areas including Latin America.
Menno de Vreeze, head of business development international wealth management Americas at Abrdn, added: "South Florida is one of the fastest growing cross border markets for overseas clients given its approximate position near Latin America and a sophistication of the marketplace.
"For Scottish financial businesses, Florida offers access to a vast set of opportunities, which include the US domestic wealth market, with a large increase of wealth and high net-worth individuals, companies moving to Florida and international clients booking their assets in Florida for diversification benefits. Furthermore we observe a large focus of Florida on Fintech, and many companies moving to Florida which will create important opportunities in the future for financial companies.
"We think it is important to have a local presence in Florida in order to be close to the decision makers and to maximise the opportunity set the United States represents."
The USA ventures mark the first time two Scottish Chambers of Commerce have collaborated on trade missions to the USA , and they hope the partnership approach will help delegates gain even more from the trip.
Lynn Blaikie, president of Forth Valley Chamber of Commerce, said: "The USA is known as a land of opportunity, but you need to know where to start, and that's what we want Scottish businesses to get from this exciting ITP trade mission to Miami and New York City. We are particularly pleased to be working with our colleagues at Inverclyde Chamber of Commerce on a dual mission, the first of its kind, that will benefit business in Scotland."
Mark Spragg, president of Inverclyde Chamber of Commerce, added: "The trade mission to Miami is the perfect evolution of our successful activities in Italy and Colombia, and we hope more of Scotland's most exciting businesses will join us in person as we seek to make more important connections across the Atlantic."
The Miami mission, led by Inverclyde Chamber of Commerce, takes place on March 29-31 this year. The New York Mission, led by Forth Valley Chamber of Commerce, runs from April 6-8.